Welcome to PianoAdvice.co.uk, put together with endless enthusiasm from my piano tuning colleagues pictured over there, or down there depending on your device in hand, I'm the good looking one next to the brunette!  Started as a hobby in 1986, I was fortunate to meet these wonderful people, it enabled me to introduce piano removals, and our popular piano rental scheme to my restoration shop. Today we offer a complete range of piano services, with the largest piano tuners client base in Essex.
For piano sales, our free education or piano hire scheme, the workshop is tidied and hoovered for Saturday viewing. Weekdays can be arranged but please bear in mind reconditioning involves dismantling the pianos, not the best time to play or view them, always telephone before setting out on weekdays.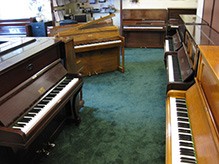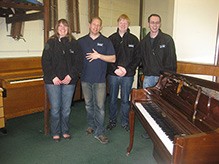 For removal quotations, booking your tuning or general piano advice, again feel free to contact directly.  We also offer a piano trolley hire service, and collect unwanted pianos.
In addition, we are grand piano movers and specialize in this using the correct shoes, skids and trolleys.
Hope you enjoy the site.
Pianos For Sale or Rental Scheme